Gibsons Tree Service - Sechelt, Gibsons & all of the Sunshine Coast, BC
Gibsons Tree Service is a family owned and operated business. We provide Free Estimates for all types of Professional Tree Service needs, such as: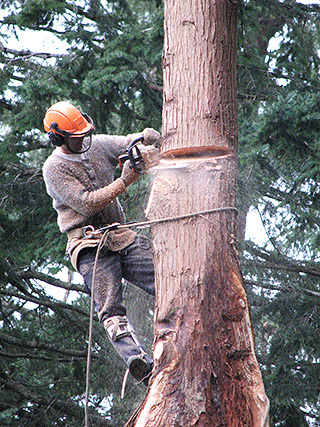 Tree Falling
Tree Limbing
Tree Topping
Mobile Chipping
Mobile Stump Grinding
Dead / Danger Tree Removal
Full Clean Up is 'always' provided
24 / 7 Emergency & Storm Response
Since 1986, Gibsons Tree Service has proudly been serving Gibsons, Sechelt and the Sunshine Coast BC.
We are Fully Licensed, carry Full WCB - Workers Compensation Coverage #723212 and Liability Insurance.
Free Tree Assessments & Guaranteed Workmanship.
All Assessments and Estimates are provided by our Tree Service Specialist, Murray Walker. Murray brings a great deal of knowledge and experience to every tree cutting situation.
If the tree in question is in a tight spot - that's okay, because Gibsons Tree Service has the wisdom and expertise to handle every possible situation. We do spur and rope climbing, and for larger jobs, we use a crane to remove the tree in sections. This provides the highest level of safety for you, your property and for our crew. When necessary we also provide traffic control and flaggers. The safety of those around us is our highest concern.
Do you have Island or Waterfront Access Property?
For your property on one of our local Howe Sound islands – Gambier, Keats, the Trail Islands, the Paisley Islands or Thormanby Island – just give us a call.
We have our own boat and are readily available to work on the islands. We can also barge our trucks, chipper and equipment to the Islands or Waterfront Access Property when neccessary.
No job is too big, no job is too small...
Gibsons Tree Service is proud to have a long list of happy customers and we'd be happy to care for your property as well.
For more information or for any questions you may have, just give us a call.
Murray Walker - Gibsons Tree Service
Tree Service Specialists
Office (604) 886-7985
On Site Cell (604) 741-1302
 
Click below to learn more about the Services we offer:
Tree Services  -  Property Management  -  Home Inspections  -  Landscaping